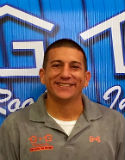 Tech ID#: 4
Reviews: 4
Average:
5.00 stars
Jimmy Ollie
Residential Field Operations Manager
Jimmy Ollie has received 4 reviews, averaging:
Jimmy Ollie's Bio:
James Ollie has lived in Brevard County his entire life and has been in the roofing industry for over 12 years. He enjoys sports, mainly basketball. When he has free time James loves spending it with his family and coaching a youth Basketball team.
Residential Roof
Port St John, FL
Comments:
Couldn't be happier with Jimmy and his team. Very professional and hands on. Jimmy was always available by phone and was normally right on site. They worked around rainy days and got the project done faster that I could have expected. Everyday they cleaned up and the project had very little impact on our daily routine. I would highly recommend Jimmy and his crew to anyone with roofing needs in the future. Sincerely, Ken McLaughlin
Residential Roof
Merritt Island, FL
Comments:
Both Jimmy and Jamie were accommodating to our schedule. Raul and his guys worked tirelessly between rain events until 8pm on their longest day to ensure we had a completely dried-in roof. Their great work was noticed and requested by neighbors. Kristian and April were great in the office!
Roof Repair
Cape Canaveral, FL
Comments:
G & G Roofing exemplifies quality, professionalism, punctuality, and honest pricing. They are comprised of sincere members of the community who are in business for the long haul. Manager Jimmy Ollie and every team member performed their work with urgency and integrity, for both my home and a neighbor's home. We are grateful to have them in the community. Ask others and you will hear, "G & G Roofing are the best in the business". I unequivocally agree, and highly recommend G & G Roofing.
Residential Roof
Suntree, FL
Comments:
Every aspect of my experience with G & G Roofing was outstanding. As a senior I appreciated the support and reassurance at every point of the process. Jimmy Ollie responded to all of my questions and kept every promise with regard to scheduling. He made this experience very easy and comfortable for me. His crew was hard working and respectful. In the office, April was extremely helpful and efficient. She was both professional and personable and I felt well taken care of, especially with insurance issues. I would highly recommend G & G Roofing to anyone in need of roofing, they are outstanding.
Tallahassee Area

(850) 296-1920

(850) 296-1920

Crestview Area

(850) 398-4442

(850) 398-4442

Panama City Area

(850) 250-5798

(850) 250-5798

Brevard County

(321) 426-0916

(321) 426-0916

Volusia County

(386) 492-9890

(386) 492-9890

Seminole County

(407) 792-1364

(407) 792-1364

Orange County

(407) 917-3932

(407) 917-3932

Indian River County

(772) 217-5205

(772) 217-5205