G&G Roofing Inc. Metal Roofing
Serving Brevard, Volusia, Orange, Seminole & Indian River County And The Entire Panhandle

Why Choose A Metal Roof System?
If you are considering a metal roof, you are in good company. Thomas Jefferson put a metal roof on Monticello and didn't need to replace it until 1992. Like Thomas Jefferson, if you choose a metal roof system it might be the last roof you ever buy.
Metal roofing systems tend to be less common than asphalt roofs; however, there are some distinct advantages, such as:
Longevity - Metal roofs can significantly outlast asphalt. Depending on the metal you choose a metal roof might last 40 to 70 years compared with 15 to 20 for asphalt. The warranty on your metal roof may last up to 50 years!
Wind- Metal roofs can sustain significant wind gusts, which allows them to comply with Florida's stringent wind code requirements.
Maintenance - Because metal roofs are durable they don't require the maintenance or have many of the problems associated with asphalt roofs. Metal roofs will not rot, split, crack, dry-out, chip, warp, leak, unlike all other common roofing materials.
Energy efficiency. Metal roofs are installed with a reflective coating. This reflects radiant heat which significantly cools the house. Many people who have a metal roof have one for this reason. The amount that can be saved in cooling bills is significant. Estimates in monthly savings range from 10% - 40%. This is also why metal roofs are more popular in southern states, like Florida, than northern states.
Environmentally friendly. The metal used in these roofs are typically made from recycled material and can be recycled at the end of its useful life.
Metal roofs are commonly available in Galvalume (Steel), Aluminum and Copper.
Galvalume - The most commonly used material in metal roofs. It is the least expensive and durable. Galvalume is not recommended if you live within 1500 feet of salt water due to its susceptibility to rust in these conditions.
Aluminum - The second most popular material used in metal roof systems. Aluminum will last longer than steel and doesn't rust. Aluminum is recommended in coastal areas where salt spray is commonly in the air. Aluminum's cost is slightly higher than steel but still a fraction of the more expensive roof systems like copper.
Copper - A copper roof system will last for hundreds of years but is prohibitively expensive. Typically copper is used to accent decorative elements in the roof system.
Styles & Colors
Metal roof systems are available in 4 common styles:
Standing Seam
Exposed Fastener
Interlocking Shingles / Metal Shingles
Faux Clay / Metal Tiles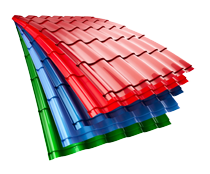 Metal roofs come in hundreds of different colors. Standard and custom colors are available. With asphalt roofs you will be limited to around 20 depending on the manufacturer.
Choose G&G Roofing Inc. For Your Metal Roof System
We have been in business since 2002 are certified to install your new metal roof, which means you will receive the full manufacturer's warranty and be covered for labor.